MONUMENT 0.7: M/OTHERS (2019)

with Erzsébet Gyarmati and Eszter Salamon

Human relations are modes of being in the world. Several of Eszter Salamon's works focus on female subjectivities, feminist genealogies, and multi-generational relationships. M/OTHERS explores the mother-daughter relationship. Through modalities of action, feeling and perception, it opens an inter-subjective time, giving birth to a singular space with traces and states of conjoining.
This is the second time the artist has asked her mother to perform with her. The duet between them occasions empathy, care, and compassion, and through sensual attention, it experiments with a poetic weaving of oscillating meaning. Such a cohabitation and constant reconfiguration of their bodies' entanglement becomes a process of undoing-redoing identity, creating a moment of 'co-emergence': being and being with, and witnessing the time-space beyond identity.


Gyarmati Erzsébet is a biology and physical education teacher, dance instructor and educational expert. Fifty years ago, she began to engage in folk dance teaching and played a major role in making dance education (folk, ballet and contemporary) a part of basic art education in Hungary alongside classical music. With her students she founded the Szàzszorszép Dance Ensemble, which celebrated its 40th anniversary this year and has toured in Europe, Turkey, Israel and Canada.
Gyarmati was the founder and director of the Martonvàsàr School of Arts between 1993 and 2000. Between 1994 and 1997, she participated in MUS-E, Yehudi Menuhin's European music and art educational project as one of its Hungarian coordinators. Based on an experiment in nine countries (England, Belgium, Denmark, Estonia, France, Germany, Portugal, Switzerland and Hungary), the projects ought to promote creativity and tolerance through the arts. She is the author of several books on Hungarian folk dance education, including 'Games and Dance in School I-IV' (2001). She was part of Eszter Salamon's Hungarian Dances and performed in several venues in France, Belgium, Germany, England, Italy, Poland and Austria.



Concept and artistic direction Eszter Salamon Choreography and performance Erzsébet Gyarmati and Eszter Salamon Extracts of Composition As Explanation by Gertrude Stein Scenography Eszter Salamon and Sylvie Garot Light design Sylvie Garot Outside Eye Liza Baliasnaja, Boglàrka Börcsök Costumes Sabin Gröflin Production Botschaft GbR/ Alexandra Wellensiek, Studio ES/ Elodie Perrin

Commissioned by Nataša Petrešin-Bachelez and If I Can't Dance I Don't Want To Be Part Of Your Revolution, Amsterdam Co-production If I Can't Dance, I Don't Want To Be Part Of Your Revolution (Amsterdam), Project Arts Centre (Dublin), Ménagerie de verre (Paris)
 Support Berlin Senate Department for Culture and Europe, the Regional Directory of Cultural Affairs of Paris – Ministry of Culture and Communication and the NATIONALES PERFORMANCE NETZ (NPN), Coproduction Fund for Dance for Dance, which is funded by the Federal Government Commissioner for Culture and the Media In cooperation with Tanz im August Berlin and Kultur Büro Elisabeth Special Thanks to Susan Gibb and Ferenc Salamon, Lili Kárpáti, Uferstudios and to Christine De Smedt for the collective choreographic research made in Dance #2 (2011) that partly resonates in this work.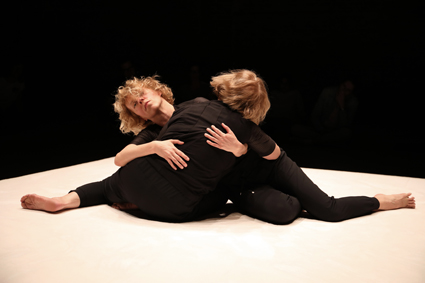 Photos:
©Ferenc Salamon, Amélie Losier, Alain Roux